It's the most wonderful time of the year… NFL FOOTBALL SEASON HAS BEGUN!
The fantasy football picks are in, last minute trades are final and the intense rivalry has just begun! We love love love football season. Not just because we love the sport but primarily because the fun rivalry that intensifies between us. See, Neeva is obsessed with the Denver Broncos and my loyalty lies with the Washington Redskins or really whichever team plays the Broncos that week (Go Chargers!). I love seeing the fiery excitement in her eyes and her victory dance when her team wins(seldom, but it does happen). The season brings us together as we watch 9 consecutive hours of football on a given Sunday when we have the time!
We can't wait for the tailgates at the FedEx Field parking lot, grilling steaks and tailgating for hours. Ahh, it really is the absolute best time of the year!
Here's to more nights of hot wings and beer, great football games and spending quality time together while watching our favorite game.
Go Skins!!!…and Broncos(and whoever plays them)!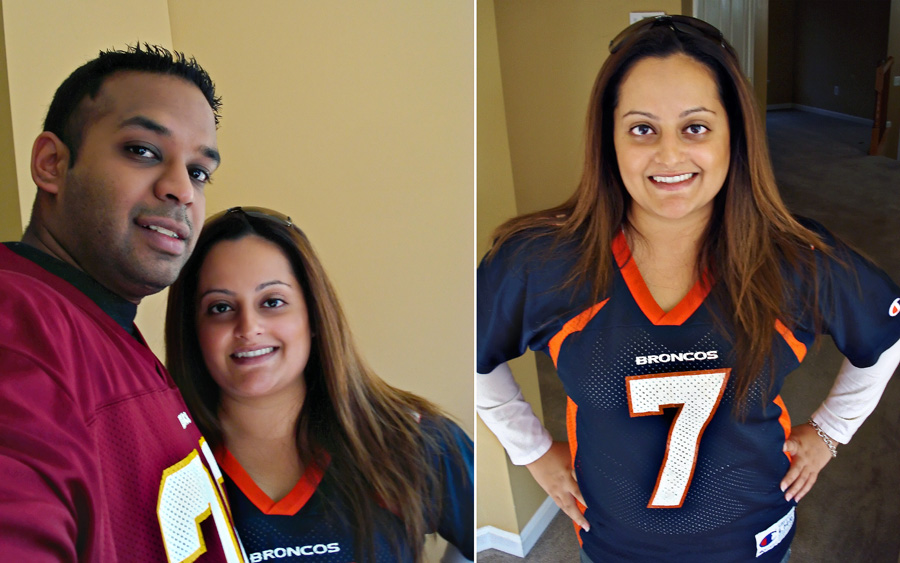 (image taken with Neeva's pink Sony point and shoot digital camera, nothing says manly like a guy using a pink camera…)