Every Wednesday for nearly two years we've been posting tips to help ease your wedding planning. Recently we've received several questions regarding our wedding. The most popular of which has been, how we made our wedding unique, and made it ours. While we incorporated ideas and feedback from our family and close friends we did want our wedding to be a reflection of us as individuals and as a couple.
Location:
Having an outdoor element was very important to us as was a beautiful and elegant location that would easily be able to accommodate 300+ guests. We were able to use the grand patio at the Westfields Marriott for both our ceremony and for hookahs at our cocktail hour.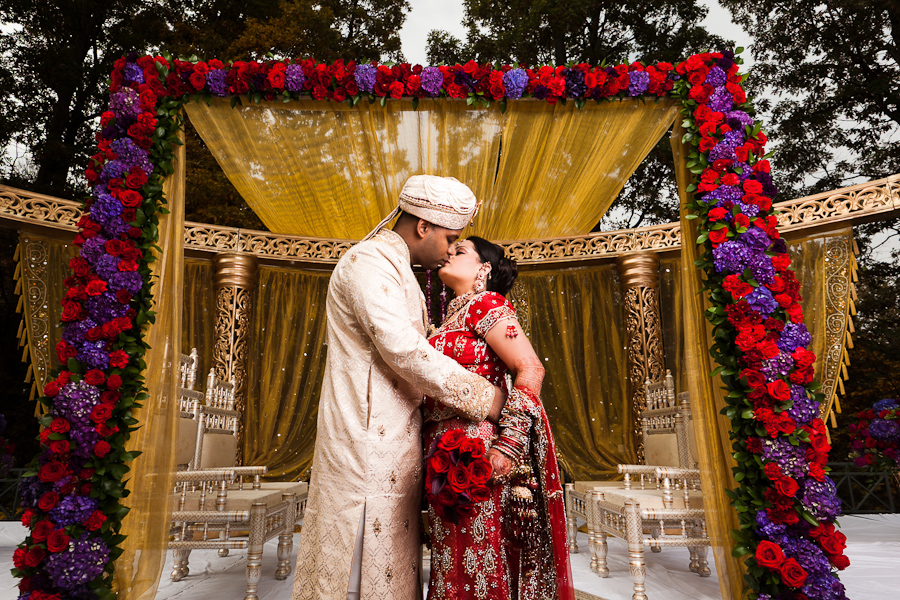 Colors:
While most brides decide to stick to two colors for their wedding, I chose three: Gold, Red and Purple. I felt that gold really set the tone for the ceremony and reception. Red and Gold were our primary colors for our ceremony as seen in our mandap and bridal party outfits, while gold, red and purple were the colors for the reception as seen in the flowers, linens and uplighting.
Bridal Party and Roles:
While most Indian brides to choose to have a bridal party, outside of dressing alike not everyone has roles. I ensured all my bridesmaids had a role during our procession. From bringing in jai malas to holding a holding a chunni over my head, everyone had a purpose. Also, we included Sunny's niece as a flower girl and my nephew as the ring bear.
Vidai
We did have a traditional vidai but we but a unique spin on things by actually going out on a beautiful white horse drawn carriage! Yes, I totally felt like a princess!
Cocktail Hour(s):
We wanted our guest to enjoy our cocktail hour without having to wait through a lull in our timeline. We planned our timeline down to the minute and purchased extra bar time from our hotel to provide our guests with a two hour cocktail. During this time our guests had plenty of time to freshen up, smoke hookahs on the outdoor patio, taste our signature drinks, play with our photobooth, watch our same day edit (pictures from earlier in the day), sign our guest book and of course, eat!
Reception
Some unique elements we brought into our reception included cutting our cake with a real 18th century sword, one dance performance with four short meaningful speeches, and glow sticks! Surprisingly the glow sticks were a hit with all generations young and old!
Ice Luge, Candy Table and Dessert Bar
We wanted elements that would make all of our guests, regardless of age, excited. We included an ice luge to satisfy the 21+ crowd and included signature drinks that tasted absolutely delicious! A candy bar with candy in our theme colors of red, purple and gold were placed in fun, silly jars for our guests to eat and enjoy. The dessert bar was in addition to our cake. The dessert bar included over 5o types of mithai and pastries for our guests to enjoy!
There are so many options, little things that you can utilize to make your day your own and stand apart from others!
All images from this post are from our ultra fantastic wedding photographers Zach and Jody