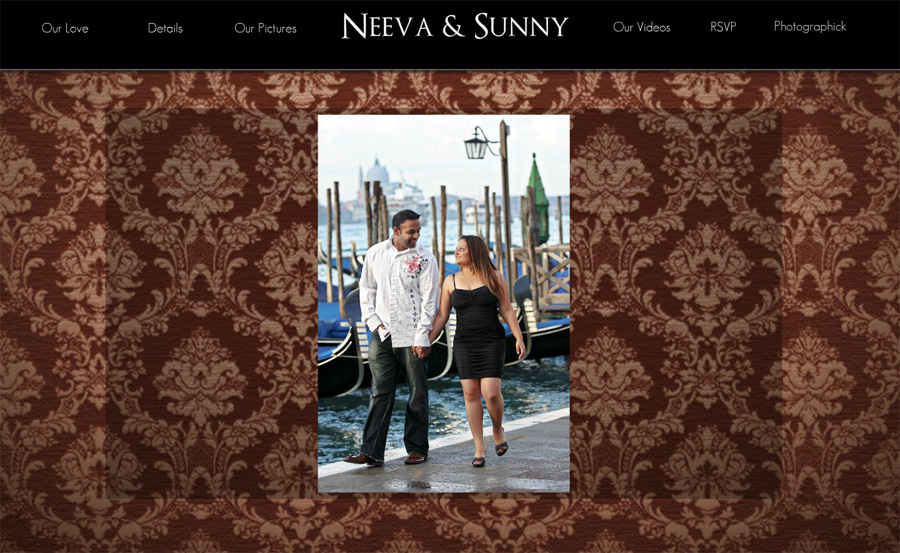 Link to our site 🙂
As we grow as a company and gain a better understanding of what our couples are looking for, it is our responsibility to deliver the absolute best to not only meet but exceed expectations. We hope our new client page does just that.
What is the client page exactly?
It's your wedding website completely designed and customized by us for you! We know how time consuming the wedding planning process can be! To help alleviate some of the wedding planning stress we decided to offer our couples custom designed client sites free with the purchase of one of our wedding packages!
The Photographick Studios Client site is sectioned into 5 Main areas: Our Love, Details, Our Pictures, Our Videos, and RSVP.
Our Love: The Our Love section is a great way for your friends and family to get to know each of you better. In this section you can write about anything from how you two met, how you knew he/she was the one for you, to how he proposed and where you see life. What exactly goes in this section is up to you. If you're confused as to where to start, we'll send you each a list of questions to answer about each other….or you can pick up the latest Cosmo.
Details: The Details section is where you can add details about your wedding. Usually the location of your wedding, guest accommodations, room rates, wedding timeline and any other details you want your guests to know go here.
Our Pictures: All of your pictures photographed by Photographick Studios will be available on your wedding website! Engagement Session images, Wedding images and a link to your Online Gallery which has every single wedding image are all located on the "Our Pictures" tab!
Our Videos: Your Engagement Session and Wedding video slide shows will both be available for your friends and family to view in the "Our Videos" section! Remember, you pick the song of your choice for both videos and share the video with friends, facebook and family!
RSVP: The RSVP tab is an optional tab that we can turn on for you if you desire. Your guests can RSVP to your wedding events via your wedding website which will automatically forward you an e-mail once someone RSVP's on the site!